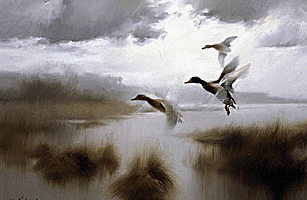 Manfred Schatz art prints with a style that captures wildlife action.
Wildlife is more than just a still picture and no one like Manfred Schatz makes the art come alive with a feeling of movement. His brush strokes are bold and are set to canvas with a certainty that many artists never acquire. He does not lose himself in the details of the marginal things, but forces the viewer's attention on the main motif as he proposes to express it. He portrays wildlife as most of us see it - in quick, often shadowy glimpses rather than sharp, bright portraits. He uses the viewers mind as an extension of his brush to supply needed details, and avoids them where they're not needed and never seen. His work is inevitably real and alive and the viewer cannot help but react. At one of the exhibitions of his paintings a spectator summed it up best when he turned to his companion and said, "It seems as though I can actually hear the painting." Like most people you probably can identify with nature with most of the artists like Manfred Schatz we feature here on our web site. We have a couple of examples of this artist's work and remember that framing is our specialty to complete the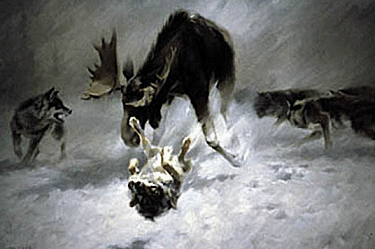 look of the artist.
In 1975 The Royal Ontario Museum in Toronto held an international exhibition, ANIMALS IN ART. Twenty-five nations submitted art from a total of 143 artists (both past and present). Manfred Schatz was judged the most significant artist of the exhibition. He has received every award that can be bestowed by the Republic of Germany on any artist - living or deceased. Twice the President of West Germany personally presented him awards. He holds a full, lifetime professorship at St. Ambrose University, Davenport, Iowa, and accepts students from St. Ambrose University during summer months for a fully accredited art course.
You may want to browse our wildlife prints and you'll find that our selection of paintings is one of the deepest on the Internet, with many artists listed here. We're adding new paintings and prints everyday, after that you may want to move onto our original paintings area which will give you an idea of the depth of the art we carry. It's exciting to be a part of an offering which brings people such a sense of satisfaction and joy. The colors, the depth, the natural settings, all of this makes this art we care about so special. We have many personal relationships with many of these artists that we exhibit and sell, and they trust us to portray their art in a correct manner. Those relationships give us the advantage of getting you some of the best new art first, so you can add to your collection before what you want is gone.
Call us if you have any questions about anything you see on our web site or need to know more about Manfred Schatz art prints. We're happy to answer your questions personally regarding availability or something special you're looking for.