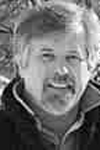 James Meger, painter of ducks and wildlife Article by: DENNIS ANDERSON , Writer Star Tribune MN.
Wildlife artist James Meger, whose oil and acrylic renditions of canvasback ducks and other fowl sparked a 30-year-plus painting career that found an appreciative audience nationwide, has died of cancer. He was 69 and lived in Edina. A graduate of St. John's University in Collegeville, Minn., where he earned a bachelor of fine arts degree, Meger was an Army officer in Vietnam for 14 months before returning to the University of Minnesota for a master's in art education. For about nine years, he taught art in Louisiana and Minnesota schools before quitting to paint full time. "I told him, 'We don't have any kids yet, so if you want to quit teaching, go ahead,'" his wife, Laurene, said. "Just a few months later, in 1980, he won the Minnesota state duck stamp contest." Born in tiny Minneota in Lyon County, Meger relayed through many of his paintings a love of, and fascination with, rural Americana, especially the farmsteads and wildlife -- pheasants in particular -- that once dotted the southwest Minnesota landscape. Meger added the state pheasant stamp contest to his credits in 1986 and often hid in his paintings wildlife that wasn't readily visible. "Places Remembered," for example, a 2005 acrylic of an idyllic scene featuring children, dogs and ducks, also illustrated, upon close inspection, white swans, screech owls and leopard frogs, among other animals. Attorney Tony Soderman of the Twin Cities, a longtime friend and onetime hunting partner, said Meger was undeterred by wildlife art trends. "He didn't paint for the market," Soderman said. "But he changed his subjects over the years. At first, he couldn't stop painting canvasbacks. But he branched out, painting snowy owls, timber wolves and other wildlife." Minnesota wildlife artist David Maass said he first met Meger in the late 1970s when he, Soderman and Meger were invited to hunt at the late Jimmy Robinson's duck camp on Delta Marsh, Manitoba. An excellent wingshot, Meger was an avid waterfowler whose time afield inspired his art, Maass said. But Meger quit hunting in the early 1980s when he mistakenly killed a hen canvasback instead of the drake, or male, he had targeted. "I was with him, and I believe that was the last duck he ever shot," Soderman said. "It really bothered him. If he ever killed another duck, it wasn't in my presence." When Meger won the state duck stamp, wildlife art was big business, with established and even new painters often selling hundreds of limited-edition prints. That market has largely disappeared. Yet Meger stayed busy painting commissioned originals and issuing reproduction canvases that closely mimicked his originals. "He painted six of our 'Prints of the Year,' more than any other artist," said Bob St. Pierre, Pheasants Forever's marketing vice president. "Those prints raised hundreds of thousands of dollars for wildlife habitat." Meger was diagnosed in April with late-stage soft tissue sarcoma, which has been traced to Agent Orange exposure in Vietnam. He entered hospice Sunday and died Thursday. In addition to his wife, Meger is survived by a daughter, Elise.
James A. Meger taught art from 1973-1979. During this time he consulted with his mentor, artist Les Kouba. In 1979, he resigned from teaching. His first limited edition print "Wildside" was released and quickly sold out. It was also announced in December of 1979 that he had won the 1980 Minnesota Duck Stamp print. Today, Wildlife Artist Jim Meger feels that his previous education, which included three years of pre-med, as well as hunting experience, has educated him for the muscular and skeletal structure needed to paint his realistic depictions of wildlife. Artist Jim Meger wants to tell a story with each of his paintings. Some of his paintings have taken up to five months to create. Since 1982, he has included hidden elements in his paintings. The curious and keen observers seek out the hidden images. From this, Meger has been known as the artist who paints "More than Meets the Eye." James Meger wildlife art prints and original paintings and canvas's for sale. Jim Meger wildlife art prints and original paintings and canvas for sale.
&nbsp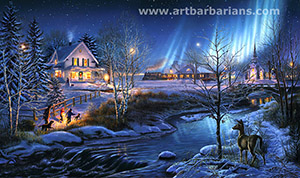 All Is Bright By Jim Meger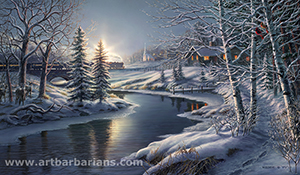 All Is Calm By James Meger