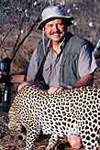 Larry Zach Wildlife Artist "A life time of hunting, fishing, conservation work and nature study has provided me with a wealth of outdoor experiences and images. My intent as an artist is to share these with others."
A deep love of nature is the underlying theme in Larry Zach's life. Born near Swisher, Iowa, on October 2, 1946, Larry spent countless childhood days exploring the fields, streams, and forests surrounding his family farm overlooking the Iowa River bottoms of southeast Iowa. These early hunting and fishing expeditions served as a prerequisite for his later Fish and Wildlife Biology degree from Iowa State University.
Larry then served as a combat infantryman in South Vietnam where, among other honors, he earned the Bronze Star of Valor. Even when in Southeast Asia, he never lost his fascination with the natural world. While acting as squad point man he collected tropical butterflies with a devise fashioned from a military-issue mosquito head net and stiff jungle vines. Each new species was carefully folded in toilet paper, stored in a discarded grenade canister, and shipped back to Iowa. The collection, along with other Vietnam mementos, remains on display at his parent's home.
Upon returning from Vietnam, Larry studied science education and museum techniques, earning a masters degree at the University of Iowa in 1972. For the next 18 years, he taught science at the junior and senior high levels in Ankeny, Iowa. Spreading his love of nature to teen-age students was a major goal during his teaching career. Larry was project oriented and believed in hands-on teaching methods in his classroom, which was full of plant and animal specimens. From establishing a school prairie to teaching students the art of taxidermy, his goal was to encourage respect for nature and love of the outdoors. His dedication to teaching is evident by his being nominated twice for Teacher of the Year. We have a complete collection of Iowa Wildlife artist Larry Zach's art prints and paintings for sale. Iowa whitetail deer artwork and art prints for sale. Wild Turkey art prints for sale painted and signed and numbered by artist Larry Zach.
&nbsp


April Sunrise - Wild Turkey By Larry Zach


Autumn Encounter - Whitetail Deer By Larry Zach