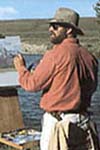 Wisconsin Wildlife Artist Scott Zoellick. Blending his love of the outdoors, with an eye for detail and an artistic style that captures every nuance of a nature scene, Artist Scott Zoellick has discovered a way to preserve the magic and emotion of a fleeting moment in his wildlife paintings.
In 1992, Scott founded Thunder Mountain Press to pursue the marketing of his own limited-edition wildlife paintings, Canvas art prints, and paper limited edition art prints. (Art Barbarians Wildlife art gallery carries Scotts complete art collection.) Since then it has continued to grow and prosper.
His education included studying illustration, painting and print making at the Milwaukee Institute of Art and Design after three years of studying at the University of Wisconsin--Stevens Point, College of Natural Resources. While at Stevens Point, Scott was commissioned by the Izaak Walton League to create a 65-foot mural in the college's new central building.
Scott's paintings have enhanced the covers of more than 25 major magazines and can also be seen on the highly sought after "Miller Mirrors." Scott Zoellick's magazine illustrations have appeared in numerous outdoor publications and he has also illustrated books for Charles Scribners & Sons, Raintree Publishing Company, Willow Creek Press and Northword Press.
He is a member of Ducks Unlimited, The Ruffed Grouse Society, Safari Club International, Pheasants Forever and The Adventurers Club. Scott has shown his work at the Leigh Yawkey Woodson International "Birds In Art" exhibition several times, designed conservation stamps for the National Wildlife Federation and has donated his art to dozens of organizations dedicated to conservation and the preservation of wildlife. His honors and awards include:
Trilene Outdoor Illustration Competition
Wisconsin Inland Trout Stamp Design
Selected by Milwaukee Magazine as one of the "Most Interesting People in Town"
"Artist Of The Year" for the Wildlife and Western Art exhibition in Minneapolis
Wisconsin Waterfowler's Association "Sponsor Artist"
"Sponsor Artist" for Salmon Unlimited
Poster artist of the year for Public Television of Milwaukee
"Sponsor Artist" for "Wings Over Wisconsin" (1989)
Wisconsin Ducks Unlimited "Sponsor Artist"
Friends of the Trumpeter Swan "Sponsor Artist"
Selected by the state of Arkansas for the Turkey Stamp
"National Habitat Sponsor Artist" for the National Ruffed Grouse Society
"National Sponsor Artist" for Pheasants Forever (1995-96)
"National Sponsor Artist" for Pheasants Forever (1998-99)
"Sponsor Artist" for "Wings Over Wisconsin" (1998)
"Sponsor Artist" for Wisconsin Ducks Unlimited (2000)
Commissioned Artist for National Freshwater Fishing Hall of Fame (2000)
"National Sponsor Artist" for Pheasants Forever (2001)
"National Sponsor Artist" for Ruffed Grouse Society (2001)
National Habitat Sponsor Artist for the Ruffled Grouse Society (2002)
20th Anniversary National Sponsor Artist for Pheasants Forever (2001-2002). Please enjoy looking at all of the great wildlife art prints and canvas art prints for sale from one of Wisconsin's best wildlife artists. Grouse art prints for sale. Fish and Fishing art for sale.

&nbsp


Annie - Springer Spaniel By Scott Zoellick

Bittersweet Raptor - American Kestrel By Scott Zoellick