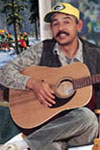 With more than 30 years of painting providing the inspiration and experiences that have gone into perfecting his exceptional artistic style, Don Kloetzke has developed a unique talent for capturing the beauty and splendor of wildlife, and for recreating the mystique of the deep woods. While best known for his wildlife art, Don also paints landscapes, still life and World War II aircraft.
Don grew up traveling with his family and living in places where his father was stationed with the U.S. Air Force. As they traveled through Hawaii, Mississippi, California, Germany and other places, he sharpened his drawing and painting skills. Now recognized as one of the finest wildlife artists in the country, Don's skill as an artist is also matched by an equally impressive talent as a musician, composer, vocalist and recording star.
Don's work has been accepted by the prestigious Leigh Yawkey Woodson Birds in Art Exhibition, an international invitational show. He has also donated his art to dozens of organizations dedicated to conservation and the preservation of wildlife.
His honors and awards include:
Wisconsin Sportsman Magazine selected Kloetzke as their first "Wildlife Artist of the Year"
Selected as "Sponsor Artist" for the Wisconsin Waterfowler's Association
"Century Artist of the Year" for PBS Channels 10/36
"Sponsor Artist" for Wings Over Wisconsin
"Midnight at Holy Hill" made U.S. Art's Best Seller List
"Sponsor Artist" for Ducks Unlimited
"A New Beginning" made U.S. Art's Best Seller List
Ranked in top 25 best-selling artists in the nation by U.S. Art Magazine for three consecutive years (1993-1995)
Plus "Best of Show" at: