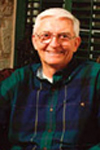 Gerald Harvey Jones, Classical and Western Artist, known to his patrons and peers as G. Harvey, grew up in the rugged hills in Central Texas where herds of longhorn cattle were driven along the dusty trails. This background has been the inspiration for the artist's commitment to portraying the spirit of America. Through his art, our country's history lives. Harvey restores all those memories, sights, sounds, and emotions. With his ability to capture the drama, light, and feeling of a moment, the artist brings the heart of his painting to the viewer. Western Artist G. Harvey is not only an extraordinary painter, but an accomplished sculptor. His original works and bronze sculptures are in the collections of major corporations, prestigious museums, American presidents, governors, foreign leaders, and captains of industry. The artist has been the recipient of innumerable awards and the subject of four books. Harvey has been honored with one-man shows at the Smithsonian Institution and the National Archives in Washington, D. C. Artist G. Harvey lives in the beautiful Texas Hill Country with his wife, Pat, where they enjoy living near their children and grandchildren. A studio adjacent to his home is a sanctuary for creating the paintings that his legends of devoted collectors eagerly anticipate with each new work. His grandfather was a trail boss at 18 and helped create an American legend. So the American West is not only the artist's passion but his birthright. G. Harvey and his wife still live near the hill country of Texas. Harvey's early interest in sketching and drawing slowly evolved into a passion for painting in oils. He abandoned the security of a full-time job in 1963 and threw his total energy into a fine art career. The year 1965 brought acclaim for Harvey's first prestigious show. He was then awarded American Artists' Professional League's New Master's Award.

Artist G. Harvey paints the spirit of America from its western hills and prairies to the commerce of its great cities. The Smithsonian Institution honored Harvey by selecting him for a one-man show. He has been the recipient of innumerable awards and the subject of three books. Through his art, our history lives.

When I am inspired to paint people and landscapes I have visited in Germany, France, New York or West Texas, I try to convey the feeling I have for the heritage and roots of such places…I want to capture that chord that unites all of us in the same pursuit of living and sharing with one another. G. Harvey Finding that middle ground between work and family, art and commerce, and the creative drive and common sense, is a difficult task for an artist. "It's the nature of the creative spirit," says painter and sculptor G. Harvey (Gerald Harvey Jones)."Throughout history, artists-even the great geniuses who were beloved by their country-were constantly striving for perfection and feeling tentative about their work." The danger, he says, is "you want to chase that dream so bad, that you end up throwing away the qualities of your life that really sustain you." But G. Harvey, unlike so many of his colleagues, seems to have mastered the delicate art of balance. "I'm blessed to have a job that I enjoy so much. My work is a gift and I want to perfect it to the best of my ability, but other things in my life are equally or even more important," says the artist, who is sustained by his family, his friends and his religious faith. He and his wife Pat have two grown children and four grandchildren. Born in 1933, Artist G. Harvey hails from Texas hill country north of San Antonio. A prolific painter and sculptor of Western frontier life, he also creates nostalgic and detailed turn-of-the-century street scenes of the world's great cities. A native of the Lone Star State, young G. Harvey loved to hear his grandfather tell of trail drives and his father talk of boom towns. Re-established in the Hill Country of his boyhood, G. Harvey took the opportunity to view and study the art available in the many galleries and museums of Austin and San Antonio…to visit and absorb the country side form the Rio Grande to the Sangre de Christo…to develop his lifelong habit of embracing the "challenge of discovery," whether it be light, life, or the warmth of family, near to home or around the globe. G. Harvey works out of his 150-year-old stone home and studio in Fredericksburg, TEXAS, part of an authentic 1853 home he and Pat have lovingly restored and furnished. In this setting his art began to evolve and flourish. He has depicted on canvas and in bronze the stories of frontier life that his father told and his grandfather actually lived. "Many of the stories I tell in my art come from the rough-and-tumble days of the Texas frontier that my grandparents helped tame, or the period of growth and urbanization that my parents knew so well," explains G. Harvey. In 1964, he decided (with the full support of his beloved wife, Pat) to devote his full time to art. In this setting his art began to evolve and flourish. In 1965, he received the prestigious New Masters Award from American Artists Professional League, New York. Important commissions have followed steadily since then, beginning with a series for Texas Governor John B. Conally, and later Merrill Lynch. The artist makes liberal use of light, color, shadow and loose, broad brush strokes to capture the feeling of a moment. Harvey relies on extensive library research and photographic images to create an authentic scene. But no mere graphic representation, however skillfully or realistically rendered, is successful as a work of art unless it evokes an emotional response in the viewer. "If you can't do that," says G. Harvey, "you've missed your mark." He makes three or four painting trips every year, accompanied by his wife Pat. In addition to oil paintings, original graphics, and limited edition prints, he creates from one to three bronze sculptures a year. Western Artist G. Harvey began his lifelong love affair with drawing as a child. His early paintings, like his current work, displayed the artist's passion for blending storytelling with historical themes. After graduating cum laude with a degree in industrial arts from north Texas High in G. Harvey's pantheon of artistic heroes are Albert Bierstadt, Thomas Moran, Childe Hassam, Frederic Remington, John Singer Sargent and Norman Rockwell. When he goes on a trip, he prefers to leave works in progress behind. Weeks later, he returns to his studio refreshed, and with a heightened sense of objectivity. In those first 30 minutes of re acquaintance, he says, "I can be more analytical and see the fundamentals of a nearly-finished painting in a way that I couldn't see them before." For many years, Artist G. Harvey has relied on an informal committee of loving friends to advise him on business contracts and gallery arrangements. These overseers, from the banking, insurance, real estate, and investment fields "looked over my shoulder in business, went to my shows and exhibits, and saw things from the point of view of collectors."Art and artists don't exist in a vacuum, G. Harvey points out. "Whenever you go to a major museum-either in Europe or America-you find artists studying other artists' art." He likens a trip to an art museum, an auction, or an art exhibition to "a fine tuning of my color senses and my style. It helps me to express myself better-to be more critical of my own work."Thousands of viewers have shared with this artist the feel of cold wind and snow confronting the Rocky Mountain riders and horses…and shared at the same time the feeling of warmth that is the reward of good friends doing hard work well. Artist G. Harvey, the artists, evokes for us the sounds and scents of a turn-of-the-century city's twilight brightened by the golden glow of gas lamps…and by the love of mother and child together choosing pretty pink blossoms from a vendor's stall. G. Harvey's art allows us to share with him and each other these scenes and these people, and the love and trust, fellowship and faith the evidence. "Sharing is the real theme of G. Harvey's art," writes Susan Hallsten McGarry, editor of Southwest Art magazine. "It motivates him to create; and sharing is what draws people to project their own lives and memories into G. Harvey's paintings." Over the past quarter-century, G. Harvey's Original oil paintings and sculptures have come to be appreciated by audiences and collectors across the nation and in Canada, Japan, and Europe. The broad appeal of his work reflects his ability to recognize and respond to the visual needs—and emotional chords—of these viewers, young and old, men and women, in all walks of life. He shares with them a time of tranquility—and transition…a moment of innocence in an era of change. He transfers memories of time we never lived, places we never saw, through his skills in calling up emotions we all share with him and our fellows. In part, this excellence in Artist G. Harvey's works stems from his meticulous research into every aspect of the scenes he depicts—as he once expressed it, art that "rings true to the most enlightened observer." Old cowhands know well the curve of the cantle that betters G. Harvey's bronc buster. Couples strolling along San Francisco's California Street can identify the cable car and the Chinese restaurant that frame the distant Bay Area Bridge. Civil War buffs perceive that the gray-clad cavalrymen and Jackson's regiment setting out on its winter campaign. Even career historians of the National Archives and the Smithsonian Institution acknowledge the care G. Harvey takes to accurately capture the details of a setting from times past—the use of subtle colors, for example, that distinguishes the carriages of Congressmen on the icy streets of the capital city in wintertime. Such "details of expression and artistic interpretation," writes Ms. McGarry. "are the subtle genius behind G. Harvey's art prints." Yet G. Harvey is more, much more, than a careful, precise, representational artist. He achieves a spirit of life and aliveness that exists only in the evocation of relationships. No matter what the subject at hand—cowhand and horse, trail driver and his herd of longhorns, mother and child, young lady and her beau—G. Harvey would maintain that his art comes from the feelings, that its ultimate success depends on "how successfully the artists suggests the interrelationships between them. I use the word 'suggests' here because it is my belief that the viewer's eye and heart create those relationships better than a detailed rendering can." It is often through the light and the highlights that mark his paintings that G. Harvey translates this warmth of the heart and soul to his viewers. He "blends the French tradition of the boulevard school of painting—romantic lights and reflections in windows and on streets—with the warm, independent spirit of the American West," Jack Morris of Altermann & Morris Galleries has written. "Even his frontier towns reflect a sense of family and togetherness…The warmth of cooperation and love, camaraderie and good will shines through, even in his snow scenes." G. Harvey's roots do indeed lie in the American West; his early works concentrated on the landscapes and peoples of Central Texas, the Panhandle, New Mexico, and the Border. Yet those works, and more recent ones, go beyond the specifics of wildflowers, cactus, cowboys, and cattle to convey G. Harvey's impressions—his concern with our heritage, with how our ancestors faced the challenge of change, with the importance of love for our friends, family—yes, and for God—that he sees as so central a part of life. From there, works continue to flow, in an even-wider sphere of appreciation and influence. For me, communicating emotion—be it love, respect, sympathy or what have you—is what art is all about. G. Harvey art prints for sale. Buy your G Harvey western art prints for us Enjoy looking at the collection. Western and Oil rig art prints for sale.
&nbsp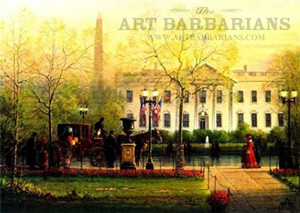 1600 Pennsylvania Avenue by G. Harvey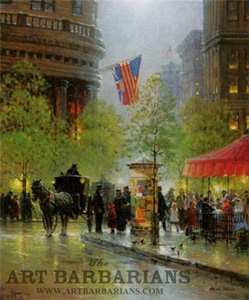 A Breakfast Out G. Harvey