Desmond McCaffrey Art Prints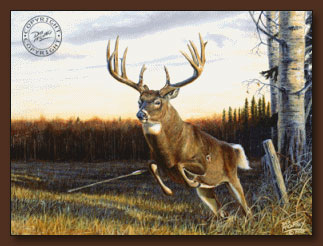 Can you separate a hunter and it's prey or the majestic of an animal in its natural surroundings. If you're looking at one of these Desmond McCaffrey art prints, you might be inclined to say no. The action that's embodied in these works is something that can't be separated from the natural environment. For for in essence, the hunter becomes part of the total picture and that reflect in this artist's work. Instead of shying away from this, he takes a good look at it and realizes it is something special in the balance of nature. Like most people you probably can identify with nature like most of the artists we feature here on our web site. We have a couple of examples of this fine artist's work. You get a sense of perspective in his art and an excellent understanding of an animal's body in motion.
One of the great Desmond McCaffrey Sieve art prints is the picture below which is titled "Days End". This image gives the feeling of the end of a long, but successful day of hunting. If you're like many of us, you enjoy that satisfaction of a day in the outdoors, communing with nature and taking the bounty that it gives. You can almost smell the fresh, the activity, just as the subjects of this great print experience. You can see the distance and understand the fellowship of this special moment. It captures the feeling of open spaces can be enjoyed whether you have it hanging in a living room or other interior room. You can see from both pictures that this artist has a realistic sense of colors and enjoys telling the story of an outdoor subject.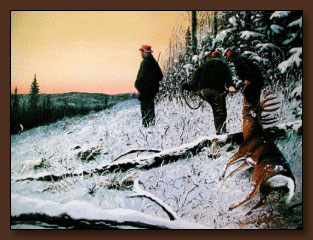 You may want to browse our wildlife prints and you'll find that our selection of paintings is one of the deepest on the Internet, with many artists listed here. We're adding new paintings and prints everyday, after that you may want to move onto our original paintings area which will give you an idea of the depth of the art we carry. It's exciting to be a part of an offering which brings people such a sense of satisfaction and joy. The colors, the depth, the natural settings, all of this makes this art we care about so special. We have many personal relationships with many of these artists that we exhibit and sell, and they trust us to portray their art in a correct manner. Those relationships give us the advantage of getting you some of the best new art first, so you can add to your collection before what you want is gone.
Call us if you have any questions about anything you see on our web site or need to know more about Desmond McCaffrey art prints. We're happy to answer your questions personally regarding availability or something special you're looking for.