Jim Hansel Art Prints and Originals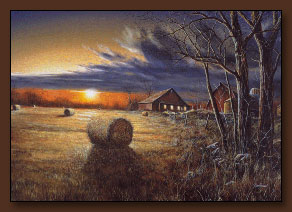 Capturing the moment is something that can be difficult, in fact it's probably the hardest part of the artistic dream. There are so many ways to explain a moment and with art it goes beyond the mechanics and the technical expertise into the heart of each person who sees it. Jim Hansel is one of those artists that captures a place in time and brings the feelings of that time right onto the canvas. Jim Hansel art gives that kind of feel as you look at the extensive line of his art here online. This artist brings out those feelings of a natural setting or a fading day transitioning into night and we feature here on our web site. We have a couple of examples of this fine artist's work. You get a sense the time and place in his art and an excellent way of color which is hard to describe. Jim Hansel art prints have been well received for a couple of decades and have a spacial, timeless quality to them.
Here's some background on the artist:
The outside world that Jim Hansel sees is not the one we see. At an early age, Jim was diagnosed with an eye condition called Stargardts. This eye condition, has left Jim legally blind from an early age. Despite his disability, Jim has learned to bring his work into focus. But Jim has said that he wants his artwork to be judged on its own merit and not on the basis that he is an artist with a visual impairment. This determination has launched Hansel into the national spotlight. Since the release of his first image in 1987, Jim has produced nearly 100 limited edition prints. Many of the editions are sold out. His reputation for detail and his distinctive, colorful landscapes, have proven to be very popular with art collectors across the country.
Reaching his level of popularity has not been achieved on his own. Jim's wife, Lois plays a major roll in the success of their art business. Since their marriage in 1985, Lois has been involved in the production of the complete line of Jim Hansel art prints. With a background in advertising and print production, Lois oversees the printing of Jim's artwork to ensure the highest quality possible. Jim and Lois have two children, Joe and Laura, who share their lives.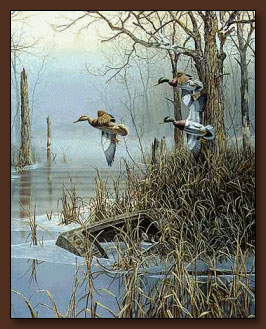 Jim has also received much recognition and numerous awards for his work. In recent years, Jim has been commissioned to produce several painting, which have been featured by Ducks Unlimited, Pheasants Forever and The Minnesota Deer Hunters Association. The limited edition prints are being used to raise money for these conservation organizations. Hansel has been honored with many other awards to his credit. He believes that hard work and perseverance is why he has been so successful.
You may want to browse our Jim Hansel art prints and you'll find that our selection of paintings is one of the deepest on the Internet, with many artists listed here. We're adding new paintings and prints everyday, after that you may want to move onto our original paintings area which will give you an idea of the depth of the art we carry. It's exciting to be a part of an offering which brings people such a sense of satisfaction and joy. The colors, the depth, the natural settings, all of this makes this art we care about so special. We have many personal relationships with many of these artists that we exhibit and sell, and they trust us to portray their art in a correct manner. Those relationships give us the advantage of getting you some of the best new art first, so you can add to your collection before what you want is gone.
Call us if you have any questions about anything you see on our web site or need to know more about Jim Hansel art prints. We're happy to answer your questions personally regarding availability or something special you're looking for.