Karen Latham Art Prints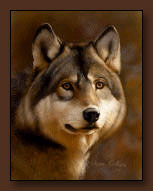 You really don't have a complete collection of stunning art until you own Karen Latham art prints from your friends at Art Barbarians. We humbly suggest that you make an investment wildlife prints which will give you beauty and an increasing value over time. Many of today's best wildlife artists come from the heart of America, where the land and wildlife influences people deeply. There's nothing quite like a natural scene to evoke a sense of serenity and restore a calming effect to your life.
When we exhibit Karen Latham art prints, we aren't so much about selling a painting as we are helping you bring some of the beauty of our native land into your interior spaces. Imagine a majestic cardinal in it's natural habitat or the majestic look of an timberwolf keeping watch. You don't have to imagine it as we have prints from many famous Minnesota artists, the best in their genre, bringing this into your life. You'll like working with us as we are as passionate about this art form as you are. Think about areas that you may want to exhibit great wildlife pictures of the Midwest, a game room, living room or maybe a dining room where it will draw the special attention of your guests.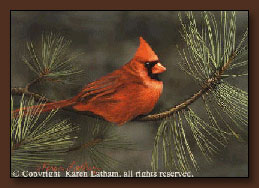 Beginning at the age of 10, Karen Latham realized that she had a very special artistic gift. Since that time, she has taught herself to utilize the talent given to her and, in addition to a biology degree, she has studied with a number of prominent contemporary artists, including Robert Bateman (June 2001), Carl Brenders, Daniel Greene, Guy Coheleach, Daniel Smith, Terry Isaac, Bruce Miller, Paco Young, Wilhelm Goebel, Wayne Trimm, John Seerey-Lester, Jessica Zemsky, and Jack Hines. Developing her own style through many hours of study of techniques and creating those of her own, Karen has continually worked to improve her art. "The best artist never stops learning.", Karen says. "There is always some way to better your art. You must keep an open mind and be willing to change your work as needed. Many pieces keep evolving as they progress and end up quite the learning experience."
You may want to browse our wildlife prints and you'll find that our selection of Karen Latham art prints is one of the deepest on the Internet, with many other artists listed here as well. We're adding new paintings and prints everyday, after that you may want to move onto our original paintings area which will give you an idea of the depth of the art we carry. It's exciting to be a part of an offering which brings people such a sense of satisfaction and joy. The colors, the depth, the natural settings, all of this makes this art we care about so special. But these artists aren't just about a realistic effect, the prints and paintings have a feeling which draws you in and brings out something deeper within ourselves. If you've ever lived in the north country, you know wonderful it is to see these great birds in the wild, but rarely do you see them.
Call us if you have any questions about anything you see on our web site. We're happy to answer your questions personally regarding availability or something special you're looking for.