Michael Birawer Art Prints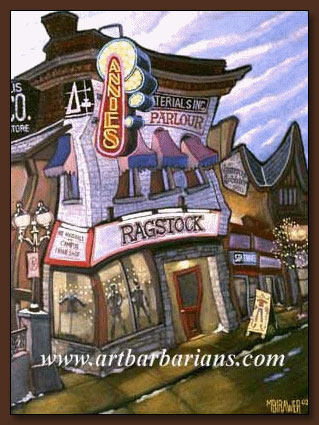 If you're looking for something out of the ordinary in the art you display, then you may want to consider Michael Birawer art prints from Art Barbarians. You get a strong sense of movement and something that is truly happening! There are many choices from this artist that have this kinetic quality and we feature them here on our web site.
Michael Birawer art prints have brought a new look to the face of urban neighborhoods through his unique style of painting. A combination of graffiti, cartoon, illustration and heavy textures, his paintings have received praise from both art critics and patrons, who describe his work as "one of the best examples of the contemporary revival of urban art." When asked about his work Birawer states, "In my work, I strive to capture the connections between people and place that create identity. Where we stop for coffee in the morning, have a beer with a friend, or celebrate an anniversary all become a part of who we are as individuals, neighbors, and community members. By exaggerating the personalities of the people and architecture, I hope to inspire emotions and evoke memories for the viewer; feelings that may go unnoticed or underappreciated in the routine of life. Additionally, I hope that my work makes people think about the importance of community in a world that seems to be increasingly individualistic." With the quick success of his "Scenes from the Twin Cities" collection, Birawer has recently begun a series of paintings reflecting the neighborhoods and life of Chicago. "This Chicago series has become my new obsession," the artist says. "This shift has allowed me to experiment with new mediums and break out of my own conventions." Birawer was born, raised and currently lives in the Twin Cities. Growing up as the third child in a family of four boys, he became aware of his talents early in life. After graduating from the College of Visual Arts in St. Paul with a degree in illustration, Birawer took numerous jobs within his field for the next decade while pursuing painting in his spare time. In 2001, he made the commitment to focus full-time on his art. Over the next year, interest in Birawer's work grew rapidly. One component of this success can be attributed to his approach to his work. "It's important that I can make my images affordable to anyone who appreciates them and still be respectful to the artwork," said Birawer. "I am painting our community. Since this is something that is a part of everyone, it should be appreciated publicly."
You may want to browse our vast array of prints and you'll find that our selection of paintings is one of the deepest on the Internet, with many artists listed here. We're adding new paintings and prints everyday, after that you may want to move onto our original paintings area which will give you an idea of the depth of the art we carry. It's exciting to be a part of an offering which brings people such a sense of satisfaction and joy. The colors, the depth, the natural settings, all of this makes this art we care about so special. We have many personal relationships with many of these artists that we exhibit and sell, and they trust us to portray their art in a correct manner. Those relationships give us the advantage of getting you some of the best new art first, so you can add to your collection before what you want is gone.
Call us if you have any questions about anything you see on our web site or need to know more about Michael Birawer art prints. We're happy to answer your questions personally regarding availability or something special you're looking for.